Unfortunately, Canton Community Association has decided to cancel Canton Day Off celebration for 2020.
This was a very hard decision and we went back and forth many times. But, because of the health and safety of our guests, staff and community we think this is the best decision.
One of the obstacles we have faced is not being able to have bingo every Tuesday night. Canton Day Off is funded entirely on the bingo profits. Not having bingo for 3 months, the finances to hold a celebration are not there. We take great pride on hosting this celebration and enjoy being able to get the community together to celebrate Canton Day Off.
We apologize for the inconvenience, but we ask that everyone please respect our decision, and know that the decision has not been made lightly and we have considered every other possible option. However, the board plans to continue discussions regarding the possibility of holding some events as future opportunities present themselves and the State of Minnesota allows it. These potential upcoming events will be announced at a later date.
We hope that next year will be a celebration that can be enjoyed by all and
we look forward to planning next year's Canton Day Off to be held August 20, 21, & 22, 2021!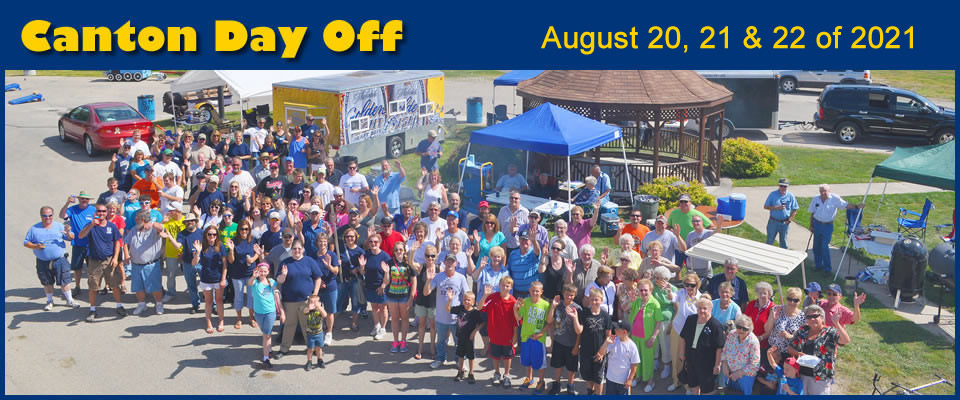 For many years the highlight of the social life of Canton was its "Day Off". During the final of the nineteenth century, the Ladies Aid Society of the Church of the Assumption, sponsored a church supper on August 15th which is the feast day of the Assumption in the Catholic liturgy. In 1903, the leader of the Canton bank, Percy Young, offered to bring the band to entertain during the dinner. The following year, the celebration moved downtown and on August 15, 1904, the whole town sponsored a day long festival the first "Day Off." By the first world war, Canton's "Day Off" had become a regional event and special trains were run to bring in out-of-town visitors. Festivities were increased to include county championship baseball games, speakers, merry-go-rounds, aerialist acts, and evening dances at the town hall. Annual "Day Off" celebrations were held in Canton for over 50 years. The last "Day Off" celebration was held on August 15, 1955.